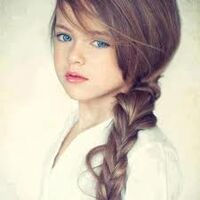 Feline
-Cat Girl
 – 21:06, August 25, 2012 (UTC)

This cat has claws, you know.
Feline (Farrah Mansly) is a thirteen year old girl capable of turning into any feline creature.
Appearance
Edit
Farrah has brown hair and blue eyes, which turn yellow when she is angry or excited. She is about 5 feet tall, and she weighs 98 pounds. She looks young for her age.
Personality
Edit
Farrah acts more mature than a thirteen year old, but is still fun to be around. Her time with her parents made her depressed and sad, but she learned to live with her parents dissapoinment. She is deeply afraid of dogs, and when she sees, hears, or smells one, she freezes and her hair stands up straight.
Farrah was born in a small town in Kansas, and was raised on a farm. When she was five, she learned of her powers. A bull had gotten loose and was about to kill her sister, who was already injured. Farrah suddenly turned into a tiger, and she attacked the bull until it left her older sister alone.
When she was ten, her family moved to Topeka, Kansas. There, she mastered her powers, but other kids thought she was a freak because of it. they all called her "Circus Girl" and "Kitty Cat". Her parents were dissapointed in her, because her being like that cause the whole family pain. At age 12, she ran away, towards the East Coast. She soon arrived in New York State, and found the Safe House for heroes. She decided to put her powers to use, and she became Feline, the biggest cat of them all.
Powers and Weapons
Edit
Farrah can change into any feline creature, extict or alive. Something as small as a little kitten to a huge saber toothed tiger. She has gloves she always wears, and they have claws on the tips of the fingers. She can also turn her teeth into teeth like a lion's or tiger's, giving her fangs and sharp teeth.